Most of you would have noticed my
White Chocolate Raspberry Macadammia cake
. There were some leftovers of raspberry filling sleeping well in my freezer, which was used for the cake. Somehow didn't want to get rid of it, as they were homemade and would never like to waste food. So came up with this idea. Since I imagined these little wonders to be adorable, arranged props in pink. But the funny thing was, ended up giving it to my friend Nonappa for his B'day. So couldn't use all the pink props, which I spent hours in finding but had to use brown and gold chocolate box.
For this recipe, I used both dark (70%) and white chocolate. To be very honest, with dark chocolate it was just OK. But with white chocolate it was too good. May be because the little sourness in raspberries merged beautifully with white chocolate (it needed the extra sweetness). As always, raspberries and white chocolate - match made in dessert heaven.
Am quite slow with blog, since PhD is taking upper hand. I have bank of 10 recipes waiting in queue to be posted. That means this recipe was made two months before :p. Hope I would be fast from the day after my dissertation :) Enjoy!!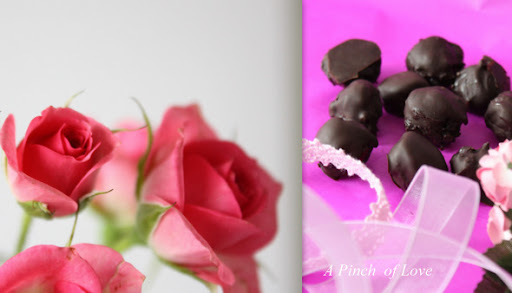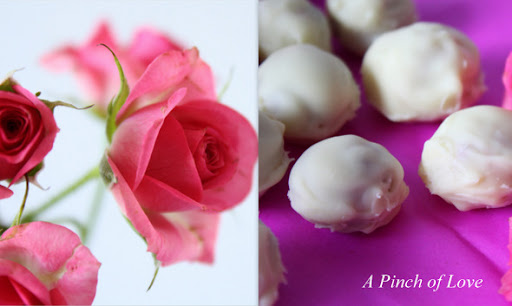 Method
I added bit more of rum (1tbspn , optional) than mentioned in the cake recipe. Since mine was left in freezer and alcohol evaporates.
Make small balls of the raspberry fillings. They will be sticky, so play around with it :)

Melt the dark, white chocolate in double boiler or microwave for 30 to 60 seconds depending on the quantity.
Dip the raspberry balls in melted chocolate, place it on the butter paper, refrigerated until it sets.
I used silk papers to wrap them as gifts. Select the one you like.